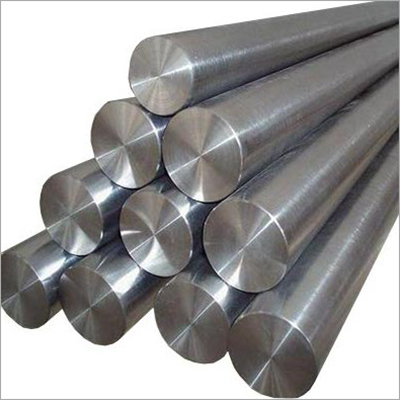 Nickel Alloys Round bar & Wires
Price And Quantity
1500 INR

1500.00 - 3000.00 INR
Product Specifications
Stainless Steel Products

Stainless Steel
Steel Bars

SMO254; Inconel; Monel
10mm to 300 Millimeter (mm)

Bar
Round Millimeter (mm)

1 Kilograms (kg)
Product Description
The commercial forms of nickel and nickel-base alloys are fully austenitic and are used/selected mainly for their resistance to high temperature and aqueous corrosion.
Commercially Pure and Low-Alloy Nickels. Nickel is supplied to the producers of nickel alloys in powder, pellets, or anode forms. This has led to a whole series of alloy modifications, with controlled compositions having nickel contents ranging from about 94% to virtually 100%.
These materials are characterized by high density, offering magnetic and electronic property capabilities. They also offer excellent corrosion resistance to reducing environments, along with reasonable thermal transfer characteristics. Some nickels of commercial importance include:Nickel 200, Nickel 201, Nickel 205, Nickel 270 and 290, Permanickel Alloy 300, Duranickel Alloy 301.
Nickel-copper alloys have been found to possess excellent corrosion resistance in reducing chemical environments and in sea water, where they deliver excellent service in nuclear submarines and various surface vessels. By changing the various proportions of nickel and copper in the alloy, a whole series of alloys with different electrical resistivities and Curie points can be created. Some nickel-copper alloys of commercial importance include: Alloy 400 (66% Ni, 33% Cu), Alloy R-405, Alloy K-500.
The nickel-chromium and nickel-chromium-iron series of alloys led the way to higher strength and resistance to elevated temperatures. Today they also form the basis for both commercial and military power systems. Two ofthe earliest developed Ni-Cr and Ni-Cr-Fe alloys were:
Alloy 600 (76Ni-15Cr-8Fe).
Nimonic alloys (80Ni-20Cr + Ti/Al).
Some high-temperature variants include:
Alloy 601. Lower nickel (61%) content with aluminum and silicon additions for improved oxidation and nitriding resistance
Alloy X750. Aluminum and titanium additions for age hardening
Alloy 718. Titanium and niobium additions to overcome strainage cracking problems during welding and weld repair
Alloy X (48Ni-22Cr-18Fe-9Mo + W). High-temperature flat-rolled product for aerospace applications
Wasp alloy (60Ni-19Cr-4Mo-3Ti-1.3Al). Proprietary alloy for jet engine applications
Some corrosion-resistant variants in the Ni-Cr-Fe system include:
Alloy 625. The addition of 9% Mo plus 3% Nb offers both high-temperature and wet corrosion resistance; resists pitting and crevice corrosion
Alloy G3/G30 (Ni-22Cr-19Fe-7Mo-2Cu). The increased molybdenum content in these alloys offers improved pitting and crevice corrosion resistance
Alloy C-22 (Ni-22Cr-6Fe-14Mo-4W). Superior corrosion resistance in oxidizing acid chlorides, wet chlorine, and other severe corrosive environments
Alloy C-276 (17% Mo plus 3.7W). Good seawater corrosion resistance and excellent pitting and crevice corrosion resistance
Alloy 690 (27% Cr addition). Excellent oxidation and nitric acid resistance; specified for nuclear waste disposal by the vitreous encapsulation method
Iron-Nickel-Chromium Alloys. This series of alloys has also found extensive use in the high-temperature petrochemical environments, where sulfur-containing feed stocks (naphtha and heavy oils) are cracked into component distillate parts. Not only were they resistant to chloride-ion stress-corrosion cracking, but they also offered resistance to polythionic acid cracking. Some alloys of commercial importance include:
Alloy 800 (Fe-32Ni-21Cr). The basic alloy in the Fe-Ni-Cr system; resistant to oxidation and carburization at elevated temperatures
Alloy 800HT. Similar to 800H with further modification to combined titanium and aluminum levels (0.85 to 1.2%) to ensure optimum high-temperature properties
Alloy 801. Increased titanium content (0.75 to 1.5%); exceptional resistance to polythionic acid cracking
Alloy 802. High-carbon version (0.2 to 0.5%) for improved strength at high temperatures
Alloy 825 (Fe-42Ni-21.5Cr-2Cu). Stabilized with titanium addition (0.6 to 1.2%). Also contains molybdenum (3%) for pitting resistance in aqueous corrosion applications. Copper content bestows resistance to sulfuric acid
Alloy 925. Addition of titanium and aluminum to 825 composition for strengthening through age hardening
The 800 alloy series offers excellent strength at elevated temperature (creep and stress rupture).
Some corrosion variants in the Fe-Ni-Cr system include:
20Cb3 (Fe-35Ni-20Cr-3.5Cu-2.5Mo + Nb). This alloy was developed for the handling of sulfuric acid environments
20Mo-4 and 20Mo-6 (Fe-36Ni-23Cr-5Mo + Cu). Increased corrosion resistance in pulp and paper industry environments.
Controlled-expansion alloys include alloys in both the Fe-Ni-Cr and Fe-Ni-Co series. Some alloys of commercial importance include:
Alloy 902 (Fe-42Ni-5Cr with 2.2 to 2.75% Ti and 0.3 to 0.8% Al). This is an alloy with a controllable thermo elastic coefficient
Alloys 903, 907, 909 (42Fe-38Ni-13Co with varying aging elements such as niobium, titanium, and aluminum). These alloys offer high strength and low coefficient of thermal expansion
The 900 alloy series offers very unusual characteristics and properties. Alloys 903, 907, and 909 were all designed to provide high strength and low coefficient of thermal expansion for applications up to 650 °C.
Nickel-lron Low-Expansion Alloys. This series of alloys plays a very important role in both the lamp industry and electronics, where glass-to-metal seals in encapsulated components are important. The nickel alloys are chosen for a variety of reasons.
Some alloys of commercial importance include:
Invar (Fe-36Ni). This alloy has the lowest thermal expansion of any metal from ambient to 230°C (450°F)
Alloy 42 (Fe-42Ni). This alloy has the closest thermal expansion match to alumina, beryllia, and vitreous glass
Alloy 426. Additions of 6% Cr are added to this alloy for vacuum-tight sealing applications
Alloy 52 (Fe-51.5Ni). This alloy has a thermal expansion that closely matches vitreous potash-soda-lead glass.
Soft Magnetic Alloys. The nickel-iron alloys also offer an interesting set of magnetic permeability properties, which have played an important part in switch gear and for direct current (dc) motor and generator designs.
Welding Alloys. Welding products for nickel alloys have similar compositions to the base metals, although additions of aluminum, titanium, magnesium, and other elements are made to the filler metals and welding electrodes to ensure proper de oxidation of the molten weld pool and to over-come any hot-short cracking and malleability problems.
Trade Information
Mumbai

Paypal, Western Union, Telegraphic Transfer (T/T), Letter of Credit at Sight (Sight L/C), Letter of Credit (L/C), Delivery Point (DP), Days after Acceptance (DA), Cheque, Cash in Advance (CID), Cash Advance (CA), Cash on Delivery (COD), Cash Against Delivery (CAD)
Yes

Contact us for information regarding our sample policy
Plastic Wrap & Wooden Box

Africa, Middle East, Western Europe, Eastern Europe, South America, North America, Central America, Asia
East India, Sikkim, Nagaland, Mizoram, Maharashtra, Andaman and Nicobar Islands, West Bengal, Lakshadweep, Gujarat, Andhra Pradesh, Telangana, Daman and Diu, Tripura, Karnataka, Delhi, Arunachal Pradesh, Central India, Himachal Pradesh, Tamil Nadu, Bihar, Meghalaya, Kerala, Goa, Uttarakhand, Jammu and Kashmir, Punjab, Assam, Dadra and Nagar Haveli, Uttar Pradesh, Haryana, Manipur, North India, West India, Odisha, South India, Jharkhand, Pondicherry, Chhattisgarh, Chandigarh, Rajasthan, Madhya Pradesh, All India

With Mtc
Contact Us
20/9, Joshi bhavan, 1st Floor, 6th Khetwadi, S. V. P. Road, Mumbai, Maharashtra, 400004, India
Phone :+918037402501